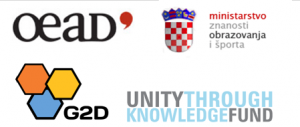 The workshop (19-23.10.2015.) was backed by the Center of Excellence Graphene2D and by the bilateral project Croatia-Austria. Our collaborators from JKU Linz, from Uni Zagreb and the representatives of nanotemper.de company participated.On Monday Soft.ifs and Linz groups exchanged experience on QCM-D sensor regeneration methods. Tuesday was set aside for the demo measurements of interactions of biomacromoelcules and smaller ligands with the Monolith NT.115 instrument by nanotemper.de. The physical principle of measurement is thermophoresis.
On Wednesday a seminar was held by JKU Linz group leader A. Ebner. It was a joint seminar of the Croatian Biophysical Society and the Rudjer Boskovic Institute.
We concluded the visit of the Linz group by a QCM-D study of heterobifunctionalized PEG SAMs that bind avidin.